BP is the next big thing in a long line of rappers from the other side of the tracks, a trend started by Eminem. He just released his first mixtape "Coffee & Cigarettes" on datpiff.com. The mixtape shows his dedication to hip hop, and the 9 to 5 is just a mistress. "I was drinking coffee and smoking cigarettes to stay up" says BP when asked how the album was conceived. Let's take a closer look:
Is this Hip Hop or Not: Instantly reminded me of Nas' "Hip Hop is Dead" produced by Chris Webber. Easy lyrics, nice flow, and good delivery. Loved the way the beat switched toward the end. BP has a love for the culture. Willing to prove himself as an Artist, he doesn't feel pressure just because he is white. With references like Mac Miller, BP sees himself as a lyricist, rapper, and hip hop artist. His work ranges from the specific composition of the rhyme to a distinct feeling and emotion into the rhyme, and the ability to express the different characters of hip hop culture in dress and speech beyond the rhyme.
You think too Much: His rhyme caught a nice melody over Drakes' "Too Much" remix. Keeping the original hook, he spoke about his mother's absence. She left when he was just 13. Eldest of 3 sons he grew up fast to help his Dad maintain the household. BP was first introduced to rap by his Uncle. "Cleaning out my Closet" by Enimem was the turning point as he coped with the betrayal by his mom.
I Know Who I am Who Are You? and No Pressure No Diamonds were my least favorite. Very boring and redundant, the hooks were choppy making the verses sloppy. He quickly redeemed himself with We Been On, Rescue Me (S.O.L.) and Check Dat Ass.
Murder Business - Young Havok Ft B.P.: One the best collaborations yet. Havok contacted BP on twitter. After exchanging music, Havok decided to put BP on the track. They put a more raw and aggressive tone to the Iggy Azalea and T.I. namesake. BP's feature came out strong and fluid, though he sounds like Enimen when rapping fast. BP says " I always thought the faster you could rap, the better you were. It required more muscle memory in your tongue. This is technique he would revisit over the bluesy production of Killin' em With Kindness.
So Bout It Bout It: Can only be described as a hip hop slow jam. A very old school feel, believed to be the one the track that propels BP. He used very little autotune and never intended to put it on the mixtape. Power of the P! Two ladies encouraged him to do so after getting a taste of it during a listening session.
WE GIVE IT 3 OUT OF 5 CROWNS!
[2/28/14] Atlanta- The next installment of my "Identity Theft" series comes from my most memorable dating experience in Atlanta. It was so trifling I had to tell my father. He, like most who knew the story found it very humorous. Business is usually slow during the 4th quarter, so 2 years ago I started waiting tables at the infamous Throbacks Sports Bar & Grill in College Park.
One night after my shift I got a text from J saying "Hey, what you doing". So I responded "Hey". J had been texting me 6 months straight "good morning". This was the first time he initiated an actual conversation. He invited me to the movies, so I asked him to call me if he really wanted an answer. I hate being courted by text. Still pining over Bu, I was happy to get a break from my heart. Well, something inside told me this was not a good idea. But I proceeded to make plans with J. I had not seen J in 2 years, so I reminded him of our first encounter at The Underground. He was darkskin and 5'11. I thought to myself "5'11?", I remember him being closer to my height. But I agreed to give him my address the next day on the way to pick me up.
I immediately phoned my friend after the call to get advice. I told her about the discrepancy. She responded jokingly "I need you to know who you making a date with". I needed a real rebound from Bu, so I wasn't throwing the towel in yet. Instead, I got on my laptop and googled the signature on J's text: Mack Tite Entertainment. A myspace page came up with the most doggish mandigo I had ever seen. I was pissed! How could this happen? Talking to myself "I remember J being cute….this must be a mistake?". Racking my brain I deducted his signature previously said "Jski" now it says "Mack Tite Ent". So then I googled "Jski Atlanta". The search results brought me to a facebook page for a record label. The facebook page lead me to a myspace page with a photo of the J I had remembered. There he was in all his mocha magnificence, but no contact. I went back to the facebook page and dialed the number listed. I could feel my lips moisten as he answered the phone "Hey Queen". He remembered me! And he reminded me of how we met. And he was the right height. I said to him "You wanna hear something funny?" He agreed and I told him "We got a date tomorrow night". All ears, I told the real J how I thought he had been texting me "good morning" for the last 6 months and finally asked me out. J would always text my google voice and my mobile regarding his shows. Somehow I had saved his name under the wrong number after re-entering contacts.
I was determined to get over Bu. All I needed was another meaningful relationship. I always had a crush on the real J, so I was flattered he was jealous of mocking J. We agreed to meet the next day. And I sent mocking J one hell of an angry text that night.
Three days after our first date, the real J says we need to talk. He decided to unpause with his girlfriend. At that moment J turned the best sex I ever had from a fairy tale to a booty call. My vagina was damaged. She took it harder than me. Water dripped from every opening in my body. I felt so betrayed I threaten the real J. He apologized for a whole week. But I still forbid him to set foot at Throbacks. Best wings in town, Throbacks was also known for the hottest open mic showcase presented by Street Talk Promotions. An artist, the real J naturally wanted to compete the following week. The prize? Opening up for 2chainz at Club Libra. He tried to smooth over his disobedience with tequila shots. No one but us knew why his track really skipped that night. He did not win the prize. And we have not spoken since.
BE LIGHT!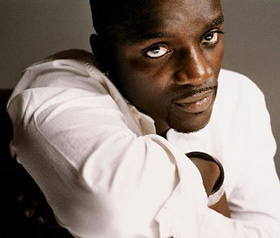 [2/27/14] Atlanta- After losing my stepmom & bestfriend to cancer in 2005, I moved to Orlando to live with whom I thought would be the love of my life. A college drop out, I thought I was finally realizing my dream when I met Akon in 2006/7 at a reggae concert. Instead I lost my home, my business, and my man because he didn't want me to work for Akon. Broke and homeless by 2007, the only thing going for me was planning Akon's charity golf invitational. Sharing a trailer with a white male naturist, I worked 18 hours a day on the event. It would be months before I discovered my handler, Hasan Sharif was taking all the credit for my work. He would switch my logo with his on the documents and submit that version to the charity. They found out what he was doing once I started to blind carbon copy Akon on all the emails. Hasan Sharif was so sloppy he slipped and put Akon's personal email on a reply.
Akon's mom, allegedly sympathetic to my situation, invited me to work for Konfidence Foundation in Atlanta. She promised to give me the full retainer owed for the work I had done on their charity golf tourney, to help with my drivers' license/passport, and that I could live rent free for a year on their property. I thought she was a saint! As soon as I used my extra money to further my education, she retracted everything and made working at the Foundation hell. After serving Akon for 13 months I left in tears. I came to Atlanta to get a steady job, hopefully find love again, and finish my degree. Akon's family were the only people I knew in Atlanta at the time. Now, I was all alone. And had lost EVERYTHING I OWN in storage to prove to anyone here I WAS SOMEBODY in Orlando.
According to Akon's mom they all hated me, especially Bu. Took me a long time to fall out of love with Bu and accept my close relationship with the family was just a cover up. No promoter would touch Akon, and no media outlet gave him mercy. Akon was facing jail time for throwing a fan off stage. Not to mention, he was already condemned for simulating sex with an underage girl at a show. My story would have destroyed what was left of his career at the time. So they destroyed me instead. My first regret is not loving Akon. His wife, mother, and Bu weren't worth fighting it. And my second regret is not hating Akon. Right now, I could have used the undisclosed amount of money the tabloid offered at the time.
BE LIGHT!
FYI: Things got pretty heated between Hasan and I. And I thought about quitting after many arguments. One day I remembered him telling me to google Akon's concert with Wyclef. And there it was….Wyclef's manager Jimmy Rosemond was responsible for bringing them together in Haiti. What does Jimmy Rosemond have to do with Akon and I? Well, ever since I read the book "Jane Eyre", I wanted to name my first child Rosamond. When I have a tough question, I ask my unborn child to give me a sign. Jimmy Rosemond was my sign. However, I made the mistake of telling Kim.
Kim was a friend of the family. She said the only reason anyone would ever be interested in Akon was for fame and fortune. I said simply not true. Proving my point I told Kim about Jimmy Rosemond and more. How Akon said it was meant to be when we met…. because we discovered they lived in South Miami on 62nd Avenue and 63rd Street. And my family stayed on 62nd Avenue and 69th Street. How Akon played football for the grey ghosts pop warner when I was a cheerleader. We crossed paths many times but never met until then. But Kim didn't tell Akon's wife that I was madly in love with Bu, and he was the one born in South Miami. And I thought Akon's purpose was to lead me to Bu, who I thought was "the one". No she tells Akon's wife "you better watch out for Queen. She's going to have Akon's baby". I was so embarrassed when I learned the office inside joke after working there for 2 weeks. Akon's wife didn't like me, now she had a valid reason. Now, Bu was never going to give me a chance. I pushed Akon away at every attempt to get to know me. Even though, Akon was the only one who made me really feel welcomed. I will always regret loving him from a far. Down to the last hour, he put his hands around my neck, pretending to choke me and said "Don't ever say you leaving me". Three days later I quit. Akon never gave up on me until …. I gave up on him.
Sunday September 29th 2013 marks the very highly anticipated series finale of one of the most acclaimed TV dramas in recent years, Breaking Bad. Created by Vince Gilligan, the program follows the life of Walter White played by Bryan Cranston. He is a typical family man who works as a chemistry teacher at a local high school. However, his life turns upside down as he is diagnosed with inoperable lung cancer. Worried that he will not be able to provide enough financial support for his family after he is gone, he turns to one of his past students, Jesse Pinkman, to help him enter the meth business. Although his former student is an addict himself, Pinkman serves as a partner to help him create a lucrative meth empire. Since the beginning of their relationship, things spiral dangerously out of control and the real fun begins. Breaking Bad is one of the highest rated television shows in the history of television, the fifth season alone receiving a 99/100 rating on Metacritic. The show also has won 50 industry awards including a recent Emmy award for most outstanding drama series and was nominated for a total of 151 awards. Recently, the entire cast appeared on Late Night With Conan O'Brien to discuss how the show has affected them. The cast discussed how they are constantly berated with fan pleas to know the ending but they were sworn to secrecy. Bryan Cranston believes this is the role of a lifetime much similar to how the late and great James Gandolfini felt about his role as Tony Soprano on The Sopranos. I am personally a huge fan of the show and Sunday will be a very bittersweet day, marking the conclusion of one of my favorite shows. However, I am still extremely anxious and excited to see how the show concludes.

On September 14th, 2013 at the MGM Grand Garden Arena, the pound-for-pound best Floyd "Money" Mayweather Jr. fought rising star Saul "Canelo Alvarez and won a split decision. The fight broke the all time record for pay-pre-view buys for boxing, generating 150 million dollars. For anyone who watched the fight, its very hard to believe that I just wrote "split" decision instead of "unanimous." However, one of the judges, C.J. Ross scored the fight as a draw, making any boxing fan with the least bit of knowledge on the sport puke. Coincidently, she is the same judge that scored 2012 bout Manny Pacquiao vs Timothy Bradley in Bradley's favor, another despicable choice for the winner and ultimately contributed to the decision for Bradley in the end. Furthermore, this kind of judging by inexperienced or possibly compromised judges is deplorable, leaving a bad taste in the mouth of a fan and tarnishing a fighter's legacy. The fight on Saturday, although poorly judged, still went to the rightful winner, Floyd Mayweather Jr. Floyd simply outclassed his opponent with skillfully and precise strikes landed. He expertly defended nearly all of Alvarez's power shots while returning shots in devasting fashion. Canelo simply could not find Mayweather in the ring and had to continually chase him as his opponent used angles and speed to tag him back. Alvarez did his best to find a way to win but as he found out with forty-four other opponents, Mayweather is simply too good. Mayweather also came out in style with artist Lil Wayne rapping "A Milli" live by his side and Justin Bieber trailing beside with shades. He also came out on top earning over 40 million dollars but at 36 how much longer does Mayweather truly have in the sport? Who knows, but until he retires you can be sure I will watch him fight and continue to prove why he is the best.

This is a big boxing match, not only in anticipated pay-per-view buys but also in the magnitude of the fight. Undefeated fighters Floyd "Money" Mayweather Jr. and Saul "Canelo" Alvarez faceoff Saturday night, September 14th, to find out who is the best pound-for-pound boxer on the planet. Floyd Mayweather is arguably the best pound-for-pound fighter on the planet boasting a 44-0 record and exhibiting the most exquisite boxing that the world has ever seen, rarely getting hit and making his opponents look simply foolish in their attempts to conquer his reign at the top. However, Saul Alvarez boasts a similar record of domination with a 42-0-1 record and displaying a feverish drive to achieve the top of the list of all time great boxers. Both fighters exhibit a display of excellent boxing that can only be summarized as an art and a demonstration of how great they truly are. Floyd Mayweather dominates opponents with expert defense and a precise flaunt exhibition of contradict counter punching. All the while, Canelo Alvarez darts forward with opponents, throwing fierce combinations and relentless ambition to win the fight, any means necessary. Both fighters have agreed to fight at a catch weight of 152 pounds,a weight class that Mayweather will have to come up in weight to compete while Alvarez will have to drop weight to achieve performance standards. Taking place at the MGM Grand Hotel & Casino in Las Vegas, Nevada, Mayweather will have a home field advantage while Alvarez will have to travel from his native Guadalajara, Mexico to take on the best fighter in the sport today. The magnitude of this fight in gigantic, both fighters putting their undefeated records on the line for a chance to prove themselves as an all time great in the sport of boxing. A huge difference is the payroll that each fighter exhibits. Floyd "Money" Mayweather Jr is guaranteed a purse of over 40 million dollars to fight, boasting the highest annual salary of any athlete in history. Saul "Canelo"Alvarez is guaranteed 5 million dollars to fight but is truly seeking the glory of dethroning the best fighter In boxing, currently and possibly of all time. To find out who will win, buy the pay-per-view or find your nearest pub playing the slug fest and find out who is truly the best.