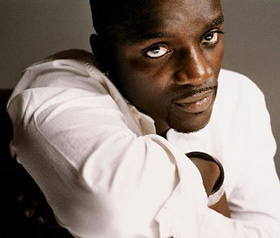 [2/27/14] Atlanta- After losing my stepmom & bestfriend to cancer in 2005, I moved to Orlando to live with whom I thought would be the love of my life. A college drop out, I thought I was finally realizing my dream when I met Akon in 2006/7 at a reggae concert. Instead I lost my home, my business, and my man because he didn't want me to work for Akon. Broke and homeless by 2007, the only thing going for me was planning Akon's charity golf invitational. Sharing a trailer with a white male naturist, I worked 18 hours a day on the event. It would be months before I discovered my handler, Hasan Sharif was taking all the credit for my work. He would switch my logo with his on the documents and submit that version to the charity. They found out what he was doing once I started to blind carbon copy Akon on all the emails. Hasan Sharif was so sloppy he slipped and put Akon's personal email on a reply.
Akon's mom, allegedly sympathetic to my situation, invited me to work for Konfidence Foundation in Atlanta. She promised to give me the full retainer owed for the work I had done on their charity golf tourney, to help with my drivers' license/passport, and that I could live rent free for a year on their property. I thought she was a saint! As soon as I used my extra money to further my education, she retracted everything and made working at the Foundation hell. After serving Akon for 13 months I left in tears. I came to Atlanta to get a steady job, hopefully find love again, and finish my degree. Akon's family were the only people I knew in Atlanta at the time. Now, I was all alone. And had lost EVERYTHING I OWN in storage to prove to anyone here I WAS SOMEBODY in Orlando.
According to Akon's mom they all hated me, especially Bu. Took me a long time to fall out of love with Bu and accept my close relationship with the family was just a cover up. No promoter would touch Akon, and no media outlet gave him mercy. Akon was facing jail time for throwing a fan off stage. Not to mention, he was already condemned for simulating sex with an underage girl at a show. My story would have destroyed what was left of his career at the time. So they destroyed me instead. My first regret is not loving Akon. His wife, mother, and Bu weren't worth fighting it. And my second regret is not hating Akon. Right now, I could have used the undisclosed amount of money the tabloid offered at the time.
BE LIGHT!
FYI: Things got pretty heated between Hasan and I. And I thought about quitting after many arguments. One day I remembered him telling me to google Akon's concert with Wyclef. And there it was….Wyclef's manager Jimmy Rosemond was responsible for bringing them together in Haiti. What does Jimmy Rosemond have to do with Akon and I? Well, ever since I read the book "Jane Eyre", I wanted to name my first child Rosamond. When I have a tough question, I ask my unborn child to give me a sign. Jimmy Rosemond was my sign. However, I made the mistake of telling Kim.
Kim was a friend of the family. She said the only reason anyone would ever be interested in Akon was for fame and fortune. I said simply not true. Proving my point I told Kim about Jimmy Rosemond and more. How Akon said it was meant to be when we met…. because we discovered they lived in South Miami on 62nd Avenue and 63rd Street. And my family stayed on 62nd Avenue and 69th Street. How Akon played football for the grey ghosts pop warner when I was a cheerleader. We crossed paths many times but never met until then. But Kim didn't tell Akon's wife that I was madly in love with Bu, and he was the one born in South Miami. And I thought Akon's purpose was to lead me to Bu, who I thought was "the one". No she tells Akon's wife "you better watch out for Queen. She's going to have Akon's baby". I was so embarrassed when I learned the office inside joke after working there for 2 weeks. Akon's wife didn't like me, now she had a valid reason. Now, Bu was never going to give me a chance. I pushed Akon away at every attempt to get to know me. Even though, Akon was the only one who made me really feel welcomed. I will always regret loving him from a far. Down to the last hour, he put his hands around my neck, pretending to choke me and said "Don't ever say you leaving me". Three days later I quit. Akon never gave up on me until …. I gave up on him.
Categories: Commentary, Atlanta